Bridging Vinyl Records and Redeemable Digital Collectibles to Increase Engagement
How a music label paired vinyl records with redeemable NFTs to deliver digital downloads, increase fan engagement and stand out as an innovative brand.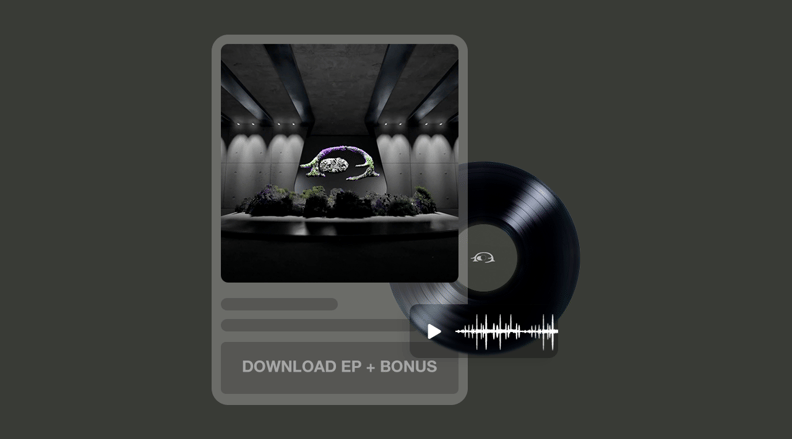 Introduction
New technologies continue to provide innovative ways for artists and labels to engage with their fans. The emergence of Non-Fungible Tokens (NFTs) allows artists to reward fans who support their careers with exclusive access, downloads, discounts and other benefits. This case study explores how the record label no•id, founded by electronic music duo freq444, leveraged NFT technology to enhance the distribution of their first vinyl release's digital downloads.

no•id's first vinyl release, the Dispersion EP
Background
no•id is an electronic record label that takes a cutting-edge approach to music distribution and fan engagement. freq444, the label's founders, are visionary musicians who constantly seek novel ways to connect with their audience. With the release of the Dispersion EP, no•id aimed to blend the nostalgia of vinyl collectibles with the digital capabilities of NFTs, offering fans a unique experience that bridges the physical and digital realms.
The Challenge
Vinyl releases are cherished by music enthusiasts for their tangible and nostalgic value. However, in the digital age, fans also expect easy access to the digital version of the music they purchase physically. With the rise of NFTs fans are looking to be more involved in the careers of the artists they follow.
no•id faced the challenge of pairing an exclusive collectible, redeemable for a digital download to their physical vinyl release. It was important that their vinyl collectors could easily access the digital download via a QR code in the vinyl packaging.
The Solution: NFT-Powered Vinyl + Digital Hybrid Experience
no•id leveraged NFT.Kred to integrate NFT technology into their vinyl release strategy. The Dispersion EP vinyl was produced in a limited edition run of 200 copies, mirroring the exclusivity of the NFT collectibles. Each vinyl package included a unique QR code that granted access to claim a limited edition NFT and unlocked a digital download of the Dispersion EP with an additional bonus track.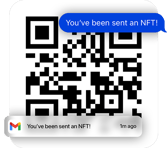 The Easiest way to share NFTs
Distribute NFTs online or in-person, by social, email, SMS or scannable QR codes
Read More
How It Works
Fans who purchased the Dispersion EP vinyl received a unique QR code in the vinyl packaging.




The QR code led fans to a dedicated page to claim no•id's OCULUS_PRISCAE NFT, powered by NFT.Kred.

Your browser does not support this video.

Upon claiming the NFT, fans gained access to download the digital version of the Dispersion EP, along with an exclusive bonus track.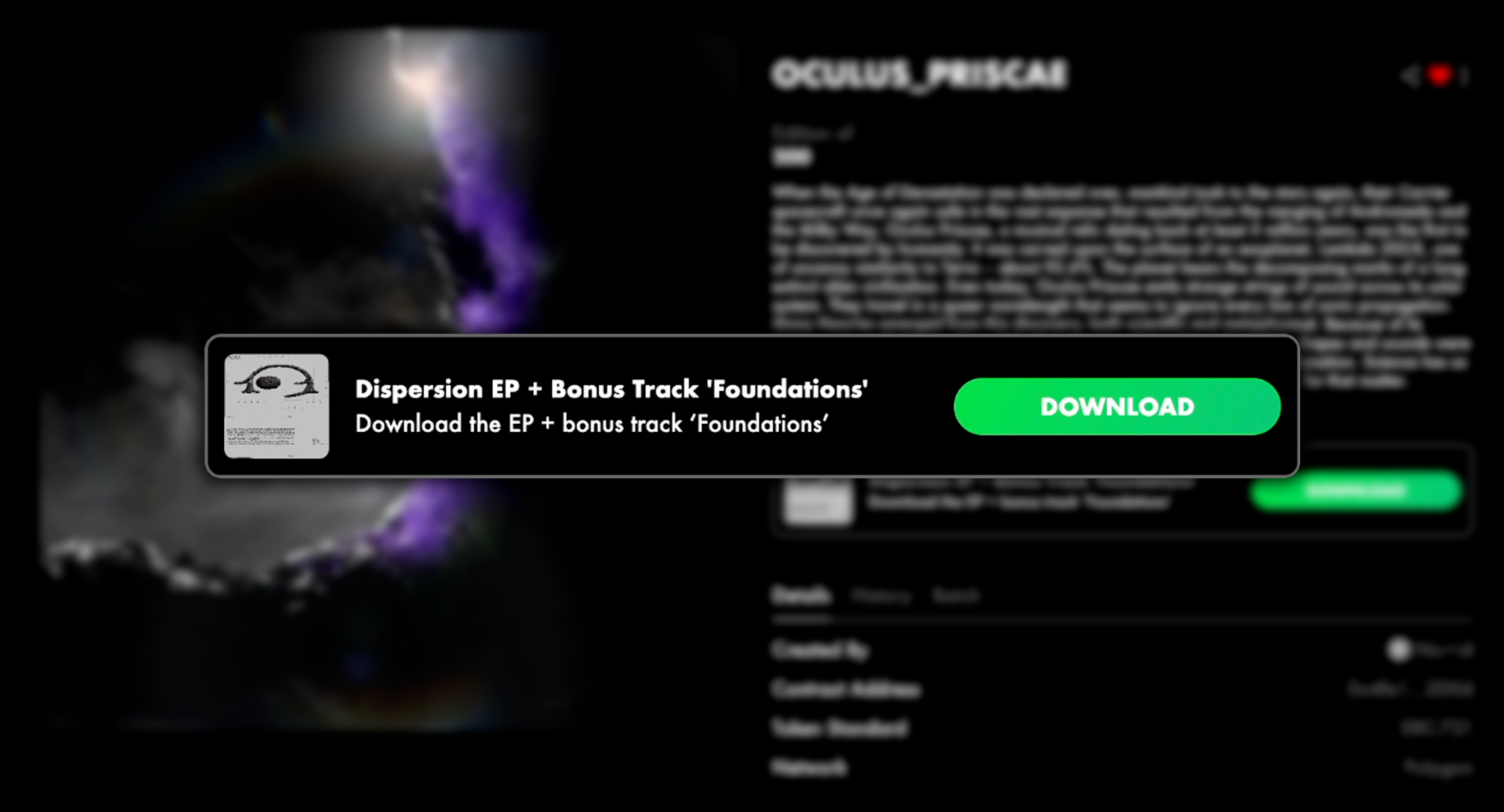 NFT.Kred's Benefits feature was used to deliver a digital download to vinyl record and NFT holders.
NFT.Kred's Benefits feature allows NFT creators to add functionality to NFTs. Creators are able to deliver offers, interactive experiences, resources, and more to NFT collectors, enhancing the overall fan experience.
no•id explored the option of reversing the order of their vinyl to digital download experience. Rather than sell a vinyl that unlocks an NFT and digital download, NFT.Kred allows no•id to at any time update the NFT's properties and Benefits to enable it to be sold, and in turn, unlock a free vinyl order of the Dispersion EP. This alternate innovative approach would allow fans to purchase the NFT collectible and receive a free physical copy of the Dispersion EP vinyl, effectively intertwining the physical and digital experiences.
Results
Increased Fan Engagement

: The NFT-powered approach

captivated fans

and created new ones by offering them a

multi-dimensional experience

that combined collectible vinyl with digital downloads.




New Monetization Options: no•id explored options to tap into new revenue streams by selling the NFT collectibles, which could grant access to both digital downloads and physical vinyl.


Brand Differentiation: no•id established itself as an innovative label that gives back to its fans and embraces emerging technologies to redefine music distribution and engagement.


Conclusion
The no•id Dispersion EP case exemplifies the power of NFT technology to reimagine the music experience. By combining the nostalgia of vinyl with the innovation of NFTs, no•id satisfied fans' desires for physical and digital content and established itself as a forward-thinking music label. This case study underscores the potential for music labels to leverage NFTs in creative ways, enhancing their value proposition and enriching fan experiences.
---
Disclaimer: Our owners, writers, and/or guest post authors may or may not have a vested interest in any of the above projects and businesses. None of the content on this blog is investment advice nor is it a replacement for advice from a certified financial planner.