In this article you will learn how to create NFT Certificates of Recognition, Achievement and Participation.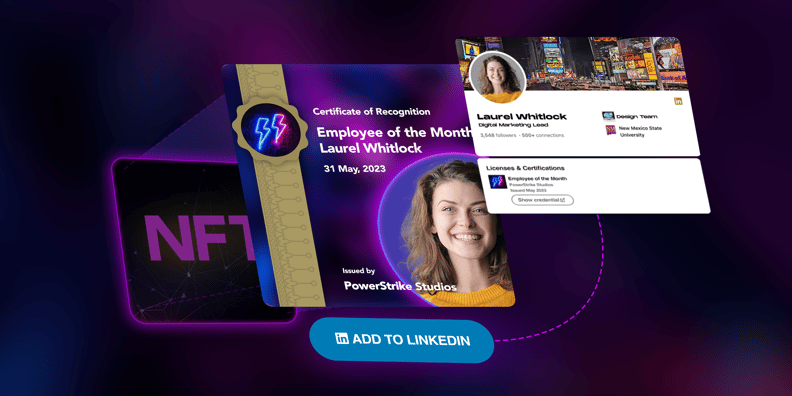 Since their rise to popularity in 2021, NFTs have been welcomed as an innovative technology used to register digital assets, most commonly digital art. They are perfectly suited to solve issues of authenticity, provenance and true digital ownership of art, in-game items and other digital assets.
NFTs are now being used to distribute and verify digital certificates.
NFT Certificates by NFT.Kred
NFT.Kred is an enterprise-grade NFT platform that powers streamlined "NFT Experiences", guiding a creator through simple steps to create an NFT that serves a specific purpose.
The NFT Certificate experience allows the creator to easily generate a digital certificate backed by an NFT. The NFT Certificate provides its recipient a simple call-to-action to "Add to Linkedin" — Listing the certificate on their Linkedin profile with a link back to the NFT to verify its authenticity.
NFT Certificate types:
Certificate of Achievement




Certificate of Completion






Certificate of Participation






Certificate of Recognition





Each certificate type allows the recipient to add their achievement to Linkedin in 1 click.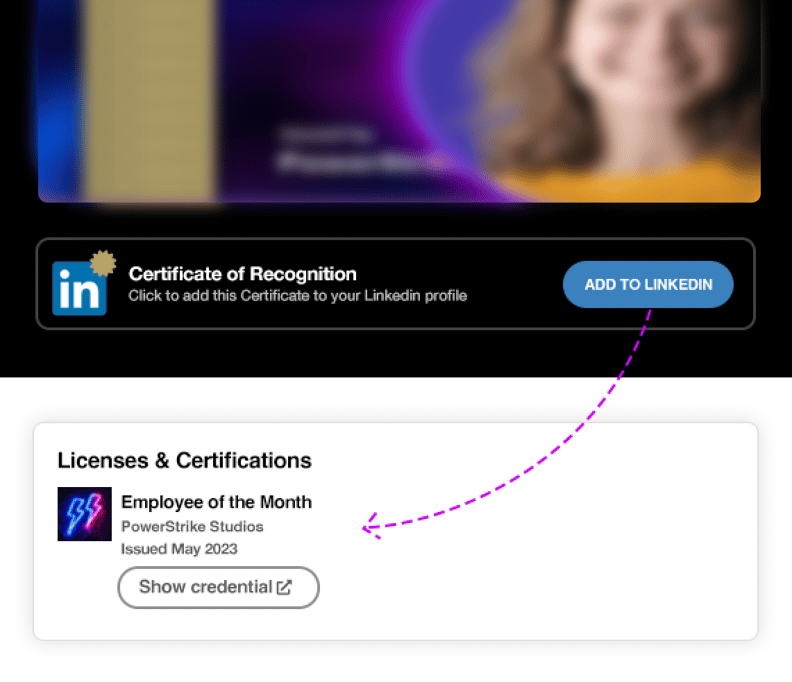 Clicking ADD TO LINKEDIN on the NFT allows the recipient to instantly add the Certificate to their Linkedin profile
Individual vs Group Certificates
NFT Certificates being made one-by-one for specific individuals can be personalized for the individual receiving recognition.
For example, an Employee of the Month Certificate may feature a photo of the recipient along with their name.
When a Certificate is being distributed to a group (for example the participants of a workshop or those who completed a specific training or course), a Group Certificates may be more appropriate — Featuring the details of the achievement and not the individual receiving it.


NFT Certificates for an individual may have a personalized design featuring its recipient, while a Group Certificate may have a more generic design
Upgrade an existing NFT to an NFT Certificate
Any NFT can be upgraded to be an NFT Certificate, featuring the "Add to Linkedin" feature described above.
While the original NFT may carry its own unique media and metadata, upgrading the token to an NFT Certificate will add these important features on the NFT.Kred platform (or branded NFT experience powered by NFT.Kred):

1 — The Certificate seal and label
The original artwork of the NFT will have a subtle seal and label appended to its top-left corner showcasing the significance of the achievement it represents. The seal includes the logo of the certificate's issuing authority.


2 — The Add to Linkedin button
The upgraded NFT Certificate will now show what kind of certificate it represents and display a button that allows the recipient to easily add it to their Linkedin profile.
How it works
1 — Create an NFT
NFT.Kred's Certificate creation experience guides the issuing authority through a simple, step-by-step flow to create their NFT.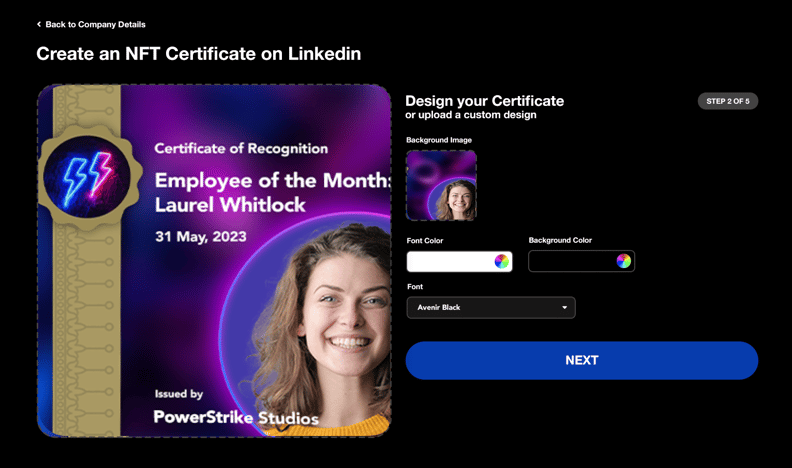 2 — Add Certificate Details
They are invited to choose a Certificate Type and add any other information pertinent to the achievement it represents.


3 — Mint the NFT
The NFT Certificate may either be minted as a one-of-one (for an individual) or a numbered series of any size (for a group). NFT.Kred supports multiple blockchains including Polygon, Flow, Solana and Immutable.
4 — Send NFT to the certified individual
The NFT can be sent one by one or to multiple recipients, by email, SMS or directly to a list of wallet addresses — See all of the ways NFT.Kred delivers NFTs to mainstream audiences here.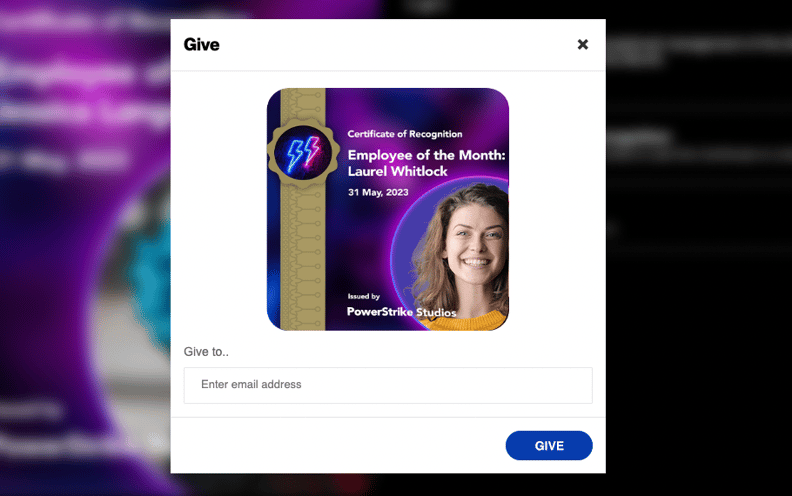 5 — Recipient adds certificate to Linkedin in 1 click
Clicking the "Add to Profile" button adds the Certificate to the Licenses & Certifications section of their profile using the details provided by the issuing authority.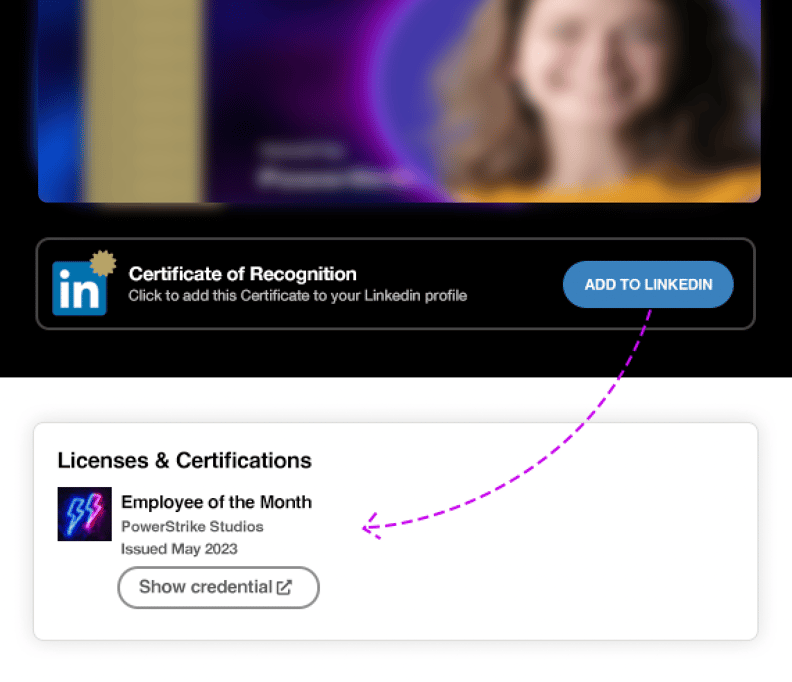 The holder of the NFT is invited to add the Certificate to their Linkedin profile - Once added, the Certificate is displayed in the Licenses & Certifications section on the profile
6 — Clicking See Credential reveals the NFT Certification
The NFT verifies that it was created by the issuing authority and is held by the individual claiming to be certified.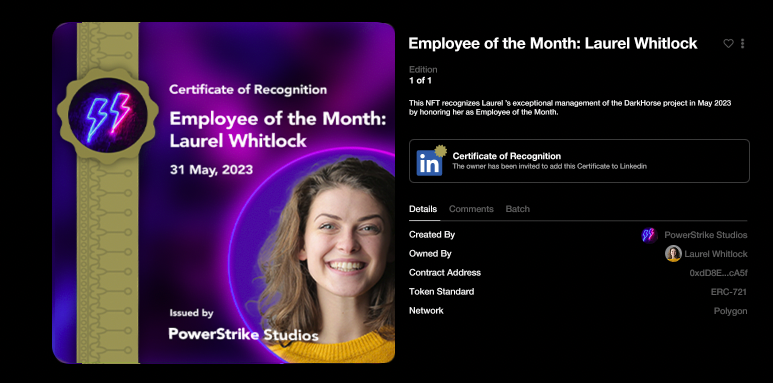 3 examples of Organizations and Events issuing NFT Certifications
SAP — Certificate of Achievement sharing company-wide Award
In the 50+ years since its foundation, SAP has come to reign as the world's leading enterprise resource planning (ERP) software vendor. With its long history of leveraging new technologies to maximize enterprise efficiencies and output, SAP was an obvious first-mover with NFTs for the enterprise.

In 2022, SAP SuccessFactors was awarded SAP's first-ever Line of Business of the Year Award in honor of the department's success in 2021.
While the award was physically represented with a trophy taking pride of place on a department head's shelf, the NFT Certificate of Achievement allowed all employees who contributed to share in the department's success.
Nicolle Gurule Sternberger who led the NFT initiative described the NFT as a way:
"to give every employee their own piece of the trophy that they can keep forever."


The NFTs featured artwork from an SAP board member and were distributed to 2,000 employees by email — resulting in an incredible 100% claim rate.
Employees were encouraged to add the Certificate of Achievement to their Linkedin profiles in a single click, allowing them to take it with them throughout their career.

Clicking the credential on an employee's Linkedin profile allows the viewer to verify that the employee actually received this Certificate of Achievement from SAP.


NFT.NYC — Certificate of Recognition thanking conference Speakers for their contribution
Since its inaugural event in 2019, NFT.NYC has held court as the first and leading major annual NFT community event. Throughout its 6 events (including NFT.London in 2022), NFT.NYC has leveraged the NFT.Kred platform to deliver additional value and enhance the attendee, speaker and sponsor experience using NFTs before, during and after the event.
NFT.NYC's first core value is "Giving the Community a Voice" — a mission resulting in hundreds of emerging talents speaking across multiple NFT track-focused stages at each event.
In 2021, NFT.NYC introduced NFT Speaker Cards — Personalized digital collectibles representing each Speaker which could be claimed and collected by the community.




NFT.Kred's NFT Certificate of Recognition experience upgrades these NFTs to certificates, allowing Speakers from each event to commemorate their contribution to the conference on Linkedin, reaffirming their thought-leadership and experience as early adopters in this emerging space.
NFT.NYC Speakers showcase their speaking credentials on Linkedin as a Certificate of Recognition



Clicking Show Credential on Linkedin reveals the NFT Certificate of Recognition that validates their experience as an NFT.NYC Speaker

NASDAQ — Certificate of Participation commemorating a C-Suite Workshop about NFTs
Founded 1 year prior to SAP, NASDAQ too has long held a reputation for innovation after it began operations in 1971 as the world's first electronic stock market.
In March 2023, NASDAQ collaborated with NFT.NYC to continue this theme of innovation and host a C-Suite NFT Workshop (read the 7 key takeaways here).
The one-day event was hosted at NASDAQ's iconic Times Square MarketSite, where over 100 brand leaders heard from 10 brand and enterprise speakers sharing their experience integrating NFTs into their product offerings and strategies.


Workshop participants scanned an onsite QR code to claim an NFT that represented proof of attendance, and were later delivered a formal NFT Certificate of Participation they could add to their Linkedin profiles.


Background
NFT.Kred is an enterprise-grade NFT platform launched in 2018.
Via its no-code whitelabel solution for brands and e-commerce platforms, and deep set of enterprise APIs, NFT.Kred has minted and distributed more than 30 million NFTs for its brand clients, primarily to mainstream audiences with little or no NFT or blockchain experience.
Learn more about NFT.Kred HERE
Meet with the NFT.Kred team to understand how your organization can leverage NFT Certificates HERE
---
Disclaimer: Our owners, writers, and/or guest post authors may or may not have a vested interest in any of the above projects and businesses. None of the content on this blog is investment advice nor is it a replacement for advice from a certified financial planner.