Since their rise to popularity in 2021, NFTs have evolved far beyond the digital art and gaming use cases for which they were originally recognized. NFTs are now providing verification of authenticity and provenance, true digital ownership and new consumer engagement experiences across multiple industries.
Since 2018, NFT.Kred has worked with major Brands and events to power streamlined NFT experiences for the creation and distribution of unique and purpose-driven NFTs.
Whether exhibiting or just attending, both in-person and online events provide Brands with opportunities to engage their target audience. From swag giveaways to satellite events, this article will highlight Brands are using NFTs to create innovative and engaging experiences that maximize their event ROI.
---
5 ways Brands can Maximize Event ROI with NFTs
1. Swag Giveaways: Help Sponsors share their Call-To-Action with Attendees
It is common practice for exhibitors to distribute branded merchandise or "swag" during an event. While this may lead to interesting conversations at the booth, and perhaps in-person lead-generation, it limits the exhibitor's reach to those who physically visit their space.
In February 2019, NFT.Kred introduced the first "NFT Swag Bag" at NFT.NYC, inviting the event's sponsors to create and distribute branded NFTs carrying their call-to-action. The bundle of NFTs was delivered by email and claimed by attendees with a single click, delivering the branded offers to their wallet. Each sponsor's NFT provided them with measurable insights into the attendees who engaged, including views, clicks and a redemption report on those who claimed their offer.
Following the success of NFT.NYC's first "NFT Swag Bag", major events including Coindesk's Consensus 2019 adopted the experience for their exhibitors. Benefits included redeemable physical merch, time with speakers, CryptoKitties, Ledger Nano hardware wallets, and a chance to win real gold.


NFT.Kred helps event organizers provide this experience to Sponsors on the event's own branded NFT platform.
Sponsors are invited to submit their NFT designs and attached benefits for minting and distribution to event attendees. This process results in a unique interactive touchpoint, allowing sponsors to track attendee engagement with their NFT and its benefits.
2. Token-Gated Digital Downloads: Exclusive Access to Premium Content
Brands often attend events with a specific goal in mind, for example collecting leads, launching a new offering or seeking partnerships. In most cases, the representatives of the organization will have access to resources that help them achieve these goals - Product guides, explainer videos, pitch decks etc.
NFTs are an ideal distribution method for these types of digital content, where holding the NFT grants the recipient access to the piece of content being shared. Due to their immutable and transparent nature, NFTs provide the marketing or partnerships team with insights into who engaged with their offer, who downloaded their content and who ultimately converted.
In October 2022, the NFT.Kred team was invited to share their insights on how "NFTs will disrupt your brand's marketing and engagement strategy" on the main stage of HubSpot's annual marketing event, INBOUND (watch here).
During the 3-day event, the team used QR codes, NFC tags and memorable shortlinks to share access to premium resources with marketers interested in NFTs.
By integrating the experience with HubSpot's CRM, the team was able to easily track who claimed their NFTs and downloaded each resource, and trigger automated follow-up emails. Continue reading about the integration and results here.
3. Exclusive Product Discounts and Giveaways: Reward Your Fans
Brands with both physical and digital product offerings can also leverage NFTs to attract engagement before, during and after the event.
NFT.Kred helps you easily create branded NFTs featuring token-gated discount codes that fans can use on your online store or website. Discounts may range from an intriguing percentage off to attract new customers and generate revenue, or grant the NFT recipient a product for free, rewarding them for their interaction and inciting Brand loyalty.
This same experience can applied to both physical products (eg. a pair of sneakers) and digital products (eg. an album download).
NFT.Kred enabled COACH's first-ever NFT launch with this concept. The initial campaign provided a free collectible NFT to loyal customers. As a follow-up to surprise and delight their fans, COACH rewarded NFT-holders with made-to-order physical Rogue handbags.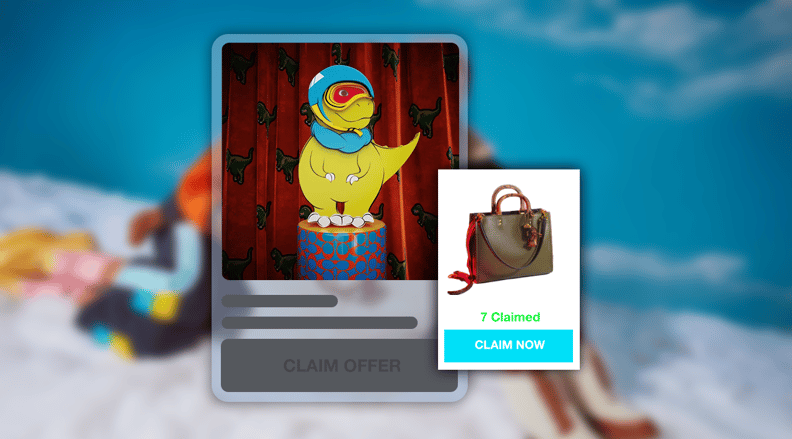 4. NFT Treasure Hunt: Create Interactive and Engaging Events
Creating an interactive and engaging experience is crucial for event success. NFT Treasure Hunts gamify your event experience, encouraging attendees to visit exhibitors, explore the venue and attend sessions to earn NFTs and complete the set.
NFTs collected by attendees are gathered in their digital wallet, reflecting their engagement and progress. Once an attendee completes the set, they may be offered a reward in the form of a product offer or discount, increased access, or another exclusive NFT.
NFT.Kred facilitated this experience at the Technology Policy Institute's 2019 Aspen Forum, rewarding technology leaders and policymakers as they explored the iconic St. Regis Aspen Resort.
At Informa's Broadband World Forum in Amsterdam, the NFT Treasure Hunt incentivized attendees to meet and engage at least 10 exhibitors across it's IoT and 5G tracks - The first to complete the set was rewarded with a Macbook Pro!
5. Satellite Event NFTs: Engagement outside the Event
Many major events are accompanied by satellite events hosted by sponsors and other groups from the same industry. Satellite events enrich the attendee experience, providing often smaller, more focused interactions with specific individuals or organizations.
Organizers of both the main event and satellite events can maximize their impact and reach by collaborating on NFTs that provide attendees a constant reminder of their engagement with your brands.
Satellite event NFTs can deliver redeemable benefits before, during, or after the event.
Since 2019, NFT.NYC's annual NFT conferences have been accompanied by over 600 registered satellite events, hosted by brands, galleries and organizations within the NFT community. At NFT.NYC 2023, partners like AI Network used custom NFTs to attract event attendees to their satellite events. AI Network's NFT redeemed for a free drink!
---
Conclusion
The unique aspects of NFTs empower brands and sponsors to create engaging experiences that maximize event ROI. Your audience doesn't have to be blockchain-savvy. NFT.Kred helps events share these experiences with mainstream audiences, helping to boost engagement and foster brand loyalty.
Discover other NFT Experiences: https://www.nft.kred/what-are-nfts-used-for
---
Disclaimer: Our owners, writers, and/or guest post authors may or may not have a vested interest in any of the above projects and businesses. None of the content on this blog is investment advice nor is it a replacement for advice from a certified financial planner.