The employee journey refers to the stages an employee goes through during their tenure in an organization, starting from recruitment and onboarding to growth and development.
It encompasses their experiences, interactions, and overall engagement within the organization.
Like a passport, NFTs create a personalized and verifiable record of an employee's journey and accomplishments (which added features for recognizing, connecting and rewarding them).
NFTs are lightweight

digital keepsakes that employees can keep forever

.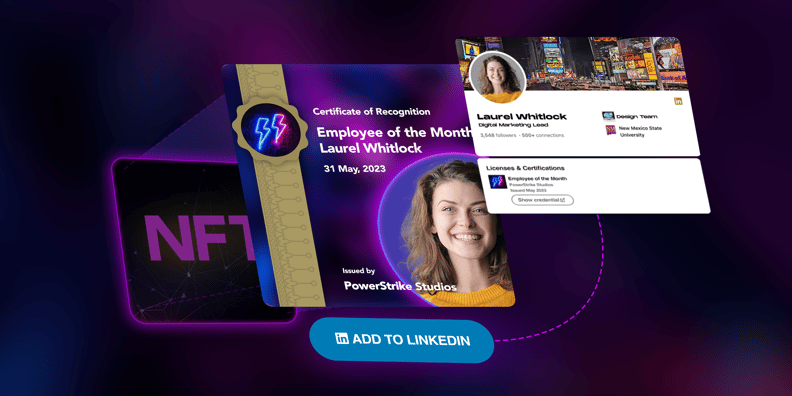 NFT stands for Non-Fungible Token.
It is a type of digital asset that represents ownership or proof of authenticity of a unique item or piece of content, such as an award, certificate, proof of attendance or even physical goods.
---
NFTs Create Collectible Moments of Recognition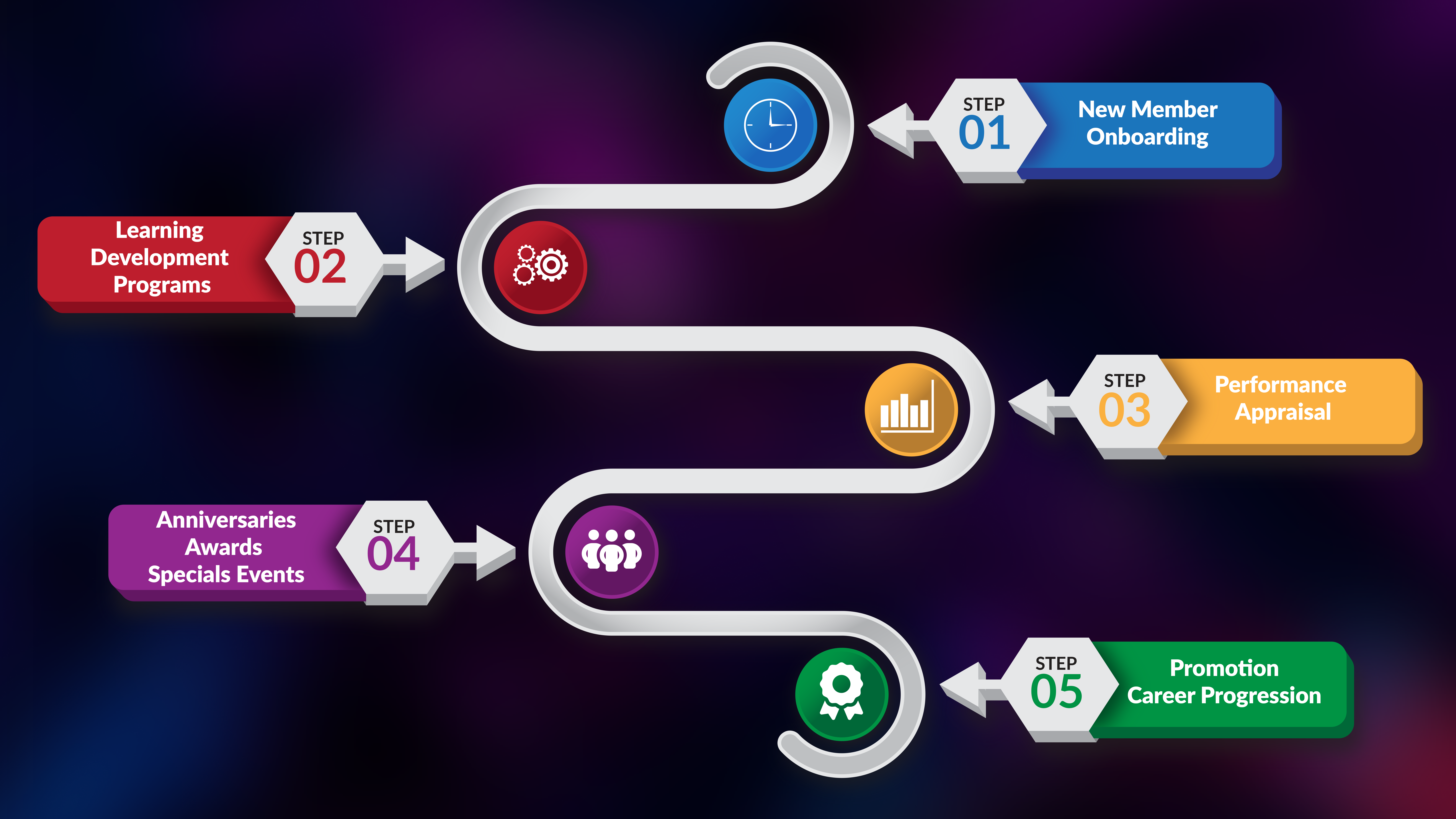 In the context of the employee journey NFTs are unique digital tokens that represent their significant moments or accomplishments, such as joining the company, completing training programs, receiving promotions, hitting goals or attending events.
NFTs serve as digital badges or certificates, providing a verifiable record of an employee's accomplishments while on their journey.
---
Verifiable: Immutable Record of Certification
The unique nature of NFTs ensures that they cannot be replicated or forged, verifying the authenticity of digital badges and certificates.
They can be used to verify and authenticate achievements, qualifications, or accomplishments in various fields.
For example, educational institutions or online learning platforms can issue NFTs as digital certificates to individuals who complete courses or acquire specific skills.
These NFT certificates can contain relevant information such as the name of the recipient, date of completion, and details of the accomplishment.
---
Personalized Passport: Each NFT collection captures Individual employee experiences
Like a passport, NFTs are personalized to capture an individual's specific journeys and experiences.
As an everlasting digital keepsake of the employee journey, NFTs help organizations create a positive employee experience, boost engagement, and foster long-term loyalty and retention.
---
Employee Engagement: Deliver Utility and create Community
NFTs are stored in an employee's digital wallet and may be showcased or shared publicly, or privately, within the company's internal systems.
They allow the recipient to easily share their achievements across different social platforms or communities.
Companies can add a layer of gamification (eg. set completion or leaderboards) or reward redemption (eg. gift cards or company merch), making the experience even more engaging and interactive for employees.
---
Case Study
SAP — Certificate of Achievement sharing company-wide Award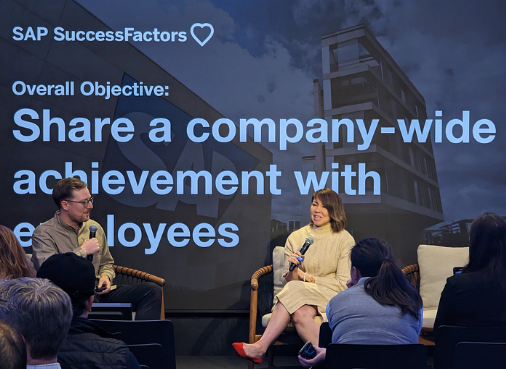 NFTs are still a relatively new and evolving technology that industry leading brands have begun to experiment with.
In 2022, SAP SuccessFactors was awarded SAP's first-ever Line of Business of the Year Award in honor of the department's success in 2021.
While the award was physically represented with a trophy taking pride of place on a department head's shelf, the NFT Certificate of Achievement allowed all employees who contributed to share in the department's success.
Nicolle Gurule Sternberger who led the NFT initiative described the NFT as a way:
"to give every employee their own piece of the trophy that they can keep forever."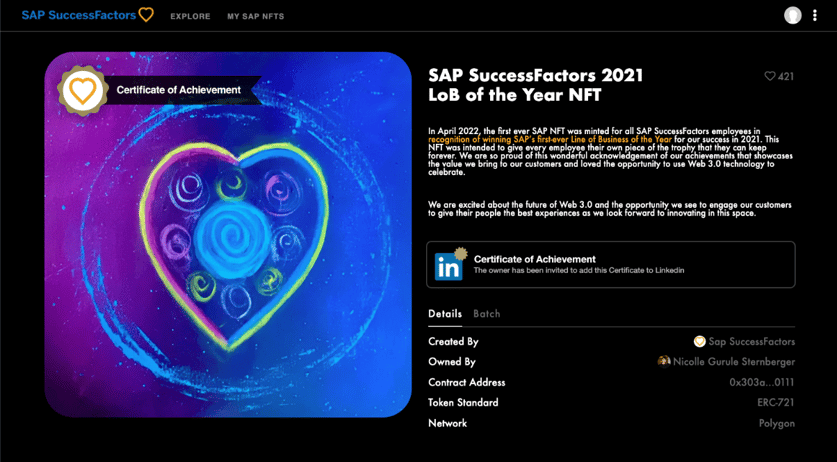 The NFTs featured artwork from an SAP board member and were distributed to 2,000 employees by email — resulting in an incredible 100% claim rate.
Employees were encouraged to add the Certificate of Achievement to their Linkedin profiles in a single click, allowing them to take it with them throughout their career.

Clicking the credential on an employee's Linkedin profile allows the viewer to verify that the employee actually received this Certificate of Achievement from SAP.
---
Background
NFT.Kred is an enterprise-grade NFT platform launched in 2018.
Via its no-code whitelabel solution for brands and e-commerce platforms, and deep set of enterprise APIs, NFT.Kred has minted and distributed more than 30 million NFTs for its brand clients, primarily to mainstream audiences with little or no NFT or blockchain experience.
---
Disclaimer: Our owners, writers, and/or guest post authors may or may not have a vested interest in any of the above projects and businesses. None of the content on this blog is investment advice nor is it a replacement for advice from a certified financial planner.