In this article you will learn how to leverage the power of NFTs to captivate and engage your audience at a conference or similar style of event.
As a speaker or performer at an event you have a unique opportunity to connect with your audience. By incorporating NFTs into your presentations and interactions, you can unlock engagement beyond traditional methods.
Foster deeper connections through NFT business cards, offer exclusive products, provide access to valuable content, enable follow-up interactions, create your own digital collectibles, and issue NFT certificates that elevate your impact and leave a lasting impression.
Below we'll explore six innovative ways for you to remain in contact with your audience before, during and after an event using NFTs.
6 NFT Experiences for Speakers and Performers
1. NFT Business Cards
NFT Business Cards transform the networking experience by providing an engaging and convenient way to share always-up-to-date contact information. They provide the creator an opportunity to include additional information, content, or resources – creating an interactive and memorable experience.

Share your NFT Business Card in a virtual presentation or live performance.

Including your NFT Business Card at the end of a presentation is a great way to get your contact details and important information into the hands of many new acquaintances at once. For representatives of an organization, this can be an efficient way to quickly collect leads from a conference - those who view and collect your NFT Business Card are likely to reach out to learn more and continue the conversation.
2. Unlock an Exclusive Product
Offer your audience an exclusive product or service by creating an NFT that acts as a redeemable token. Grant token holders early access, discounts, or other special offers, creating a sense of exclusivity and rewarding their engagement.
Reward your most loyal followers with an NFT that unlocks an exclusive offer.

Fashion powerhouse Coach gave away NFTs that provided access to an e-commerce experience where token holders could customize their very own Coach bag and have it shipped to them for free.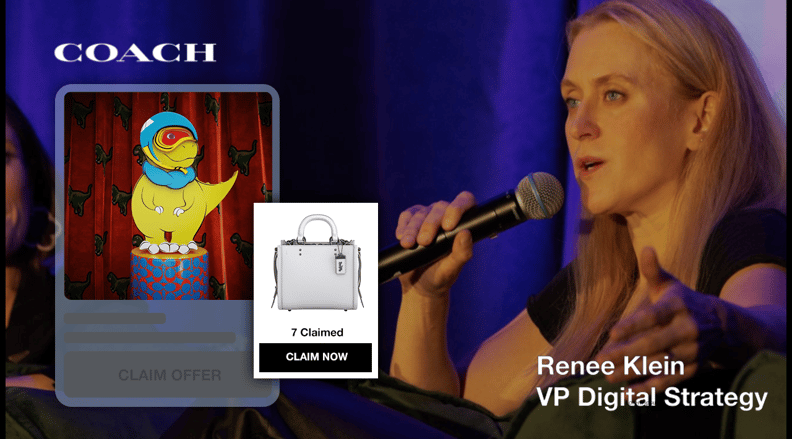 Explore the Coach NFTs that unlocked this e-commerce experience on their whitelabel NFT Hub powered by NFT.Kred: https://nft.coach.com/
3. Unlock a Digital Download
Allow your audience to access and download your presentation or source material through a token-gated NFT. Token holders can unlock your PDF or any other hosted file by redeeming an NFT. This enables attendees who claimed your NFT to revisit your valuable insights whenever they need them.

Share your NFT prior to an event, at the end of your presentation or performance, or after the event as a follow up to the individuals you meet. The blockchain allows you to track who has collected your NFTs as well as who engaged with your content.

NFT.NYC Alumni speakers Jodee Rich, Mark Radcliffe and Andy Lee hosted a Legal webinar which allowed viewers to claim an NFT that unlocked the slide deck used during the session. Once unlocked the deck content was available for token holders to download.
4. Unlock a Calendar Link
Seize the opportunity to connect with your audience on a deeper level by using an NFT to unlock your calendar. Attendees who redeem your NFT can schedule follow-up calls or meetings with you, enabling meaningful post-event interactions. Scheduling time with your audience helps you connect with them on a deeper level and share your services and insights.

Token-gated NFTs that unlock calendar links can be given away to individuals you interact with backstage, in the main hall or even at a satellite event.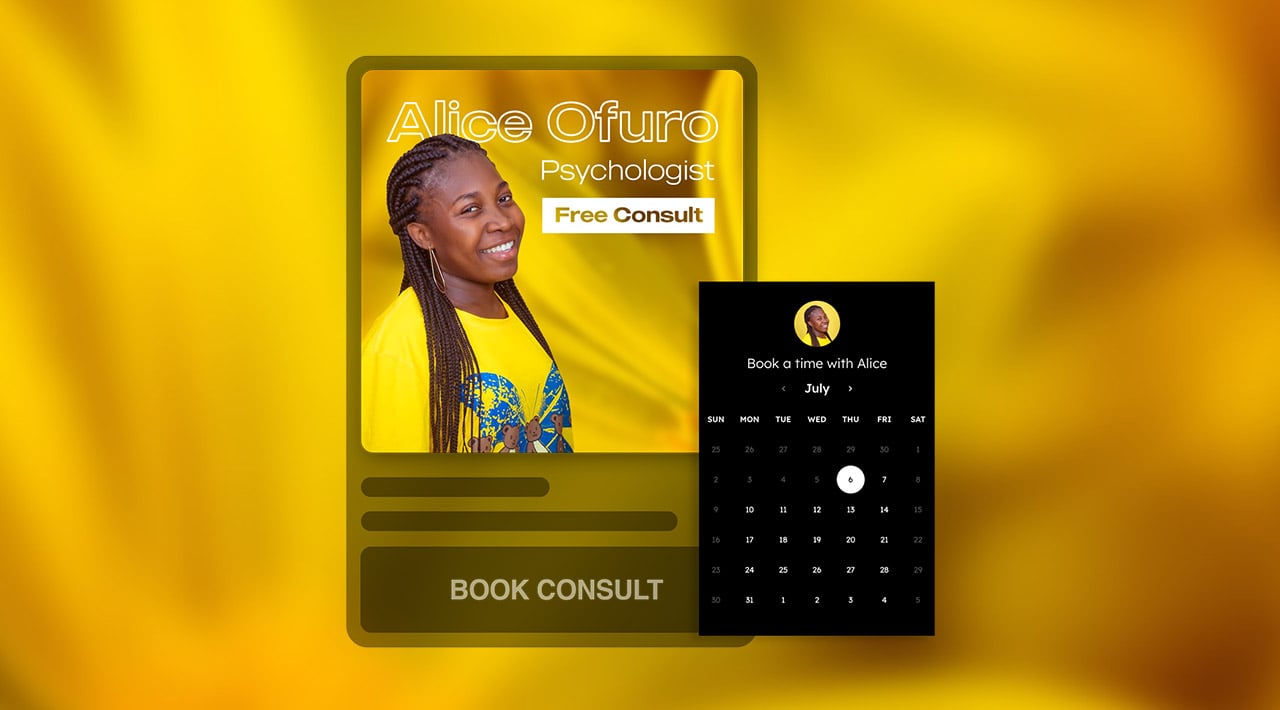 At Coindesk's 2019 Consensus event, personalized NFTs featuring their top speakers were issued at random to attendees in a "golden ticket" style giveaway. Each NFT was redeemable for a 1-on-1 meet and greet with their top presenters.
5. Digital Collectible
Create a branded digital collectible as a special memento of your session at an event. This NFT can be a unique piece of art that represents you or a special token for your audience that represents their proof of attendance. The digital collectible serves as a cherished keepsake for attendees, reinforcing their connection with your content and the event.

Any event big or small can be commemorated with a Digital Collectible. These NFTs have been used for virtual events like Twitter Spaces and podcasts, in-person meetups and corporate events.

During HubSpot INBOUND 2022, the NFT.Kred team spoke on the main stage about how NFTs will be disrupting the marketing and engagement strategies of Brands. At the end of the session they displayed a simple QR code and gave away NFTs to the 7,500 marketers in the audience and the thousands more watching online.
6. Linkedin NFT Certificates
Certify participation and accomplishments using verifiable NFT certificates. Issue NFT certificates to acknowledge audience participation, allowing them to showcase their achievements on Linkedin, bolstering their professional profiles.

In March 2023, NASDAQ collaborated with NFT.NYC to host a C-Suite NFT Workshop at NASDAQ's iconic Times Square MarketSite. At this event over 100 brand leaders heard from 10 brand and enterprise speakers sharing their experience integrating NFTs into their product offerings and strategies.

Workshop participants had the opportunity to scan and claim an NFT that represented proof of attendance, and were later delivered a formal NFT Certificate of Participation they could add to their Linkedin profiles.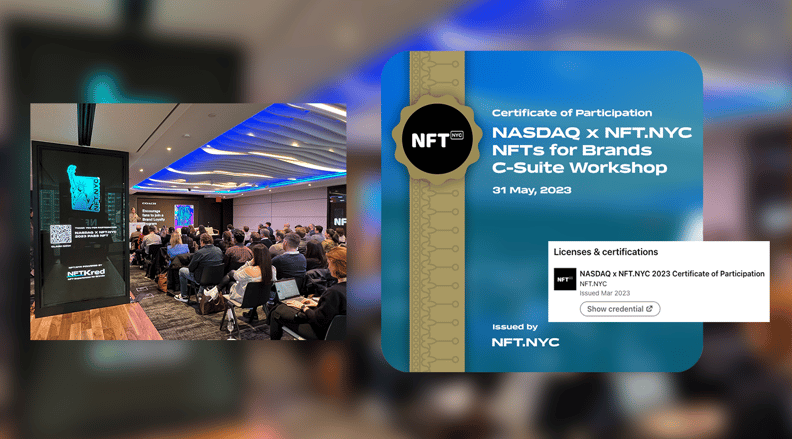 ---
How to distribute your NFTs before, during and after the event
Now that you understand how different types of NFTs can create audience engagement, below are 6 different methods for sharing your NFTs before, during and after the event:
QR Code - Distribute your NFTs via a QR code from your phone screen or from your slideshow, video presentation or physical business card.


NFC Tag - This method is best used to verify someone's physical presence when claiming your NFT. Recipients simply tap their device on your NFC tag which can be attached to your phone, a hat, hoodie or other wearables at an event.


Email - Reach out to your audience prior to your session at an event or follow up with them afterwards via your newsletter with a link to claim your NFT.


SMS - Send a text message to your community to claim your NFT without the need to set up a web3 wallet.


Social Posts - Post your NFT on Twitter, Linkedin or any social media platform with a link for your audience to claim your NFT - This is best for broad reach to an un-targeted audience.


Bio & Signature - Create a shortlink (using a tool like bit.ly) to claim your NFT and add it to your website, social media bios or your email signature.
---
Background
NFT.Kred is an enterprise-grade NFT platform launched in 2018.
Via its no-code whitelabel solution for brands and e-commerce platforms, and deep set of enterprise APIs, NFT.Kred has minted and distributed more than 30 million NFTs for its brand clients, primarily to mainstream audiences with little or no NFT or blockchain experience.
Meet with the NFT.Kred team to understand how you can amplify your impact at an event and engage your audience with NFTs here.
---
Disclaimer: Our owners, writers, and/or guest post authors may or may not have a vested interest in any of the above projects and businesses. None of the content on this blog is investment advice nor is it a replacement for advice from a certified financial planner.